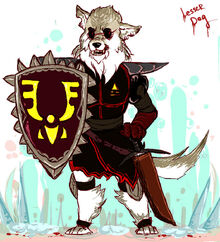 Lesser Dog is the helper of Greater Dog, and a member of the Royal Guard.
Appearance
Lesser Dog has a spiked shield and also holds a bloody sword. He tries to intimidate humans by glaring at them, but it doesn't work. The shield has the delta rune on it.
Personality
Lesser Dog fights all day protecting the Royal Guard, and choosing a human's fate. He is very aggressive and deadly. He wears a black armor and has a white sword in his hand.

Powers and Abilities
Lesser Dog can throw his sword in any direction. He can also use telekinesis like his friend Greater Dog.
Fight
Tundra - Lesser Dog fights Frisk in this area as a random encounter thinking that he can take their soul.
Relationships
Greater Dog - If anyone goes near Greater Dog, Lesser Dog slices their soul.
Frisk - Lesser Dog hates Frisk. He wants to give their soul to Greater Dog and transform him into a god.
Flowey - Lesser Dog thinks Flowey is a "Puny weed".
Undyne - Lesser Dog wants to help Greater Dog get rid of Undyne.
Papyrus - Lesser Dog chews on Papyrus after his shift thinking he is food.